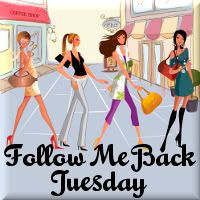 It's Follow Me Back Tuesday!!! YEAH!!! I LOVE LOVE LOVE checking out all the blogs!!!
Please join me won't you!!!! And make sure to leave me a comment I PROMISE I'll follow you back!!!
Not much exciting happening in Hoss's World today!!! We just got in from our 2nd walk.....and Mommy is DRAGGING!!!!!! I'm gonna take a small breather....check a few blogs then off to do some reading!!!
I'm reading a book on Isaiah and doing a Bible Study on Isaiah. Just started it & am trying to make sure to do atleast a 30 minute study every day!!! So far so good!!!!!
Have a GREAT one everyone!!!!